TORGIM, which was constituted by Mr. Paolo Giana in 1966, means flexibility, sturdiness, versatility, precision, reliability, after-sales service.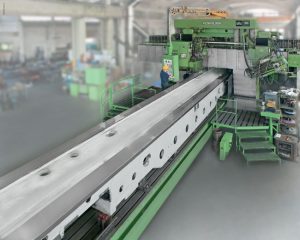 The company produce centre lathes with covered guides, in such a way as to guarantee precision in the years; a feature of all the machines is the natural gap under head that permits to work pieces with big diameters feasible with machines much more bulky and little handy.
Skilled engineers follow the productive cycle, which is entirely carried out in Italy, in such a way as to guarantee quality, precision and reliability besides a fast after-sales service.
The innovative spirits of our firm has successively brought to the construction of CNC simplified teach-in centre lathes, conceived to optimize the work's capacities of the operators of the traditional single pulley lathes allowing them to carry out pieces with complex shapes assuring the quality and precision of a CNC machine with the simple usage of a traditional machine.
All our machines are CE marked and respect the most common international safety rules.
Besides the Torgim firm has a machines park very wide and in continuous renovation that allows to satisfy the jobbing demands particularly for grinding operations with a surface grinding machine of medium and great dimensions.
The productive unit at Magnago, 15 km far from the Malpensa airport, has great dimensions that facilitates the motion and machining of pieces with notable volumetric dimension.
Our technical office could design special machines and applications, developped and carried out on customer request.