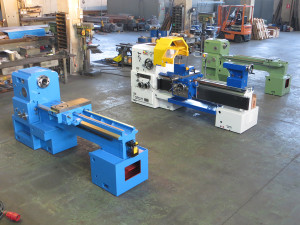 The productive unit, with office at Magnago (MI), 15 Km from the Malpensa airport, has wide dimensions that ease the management, the handling and the working of pieces with considerable volumetric dimensions.
It lays on an industrial area easily reachable from  Malpensa aiport freeway.
The productive cycle is nearly entirely made in our unit by the disposal of many machines in continuos technologic updating.
There are the following departments:
assembly
beds milling and grinding
carriages and little carriages milling and grinding
internal/external cylindrical grinding (shafts, spindles and gears)
CNC boring
conventional  and CNC turning
lead screws threadings
horizontal and vertical broaching
drilling
CNC milling
gears cutting
material bars cutting
rough and semimachined materials store
Exchange parts store